Pinaki Group
Steps up for Green with its two factories
Pinaki Group is a Bangladeshi diversified business conglomerate has decided to go green with USGBC (LEED) Certifications and a signing ceremony was held on 16 March at KIB Hall in the capital between PInaki Group two factories and 360 TSL Green Building Consultancy Services for USGBC (LEED) certifications.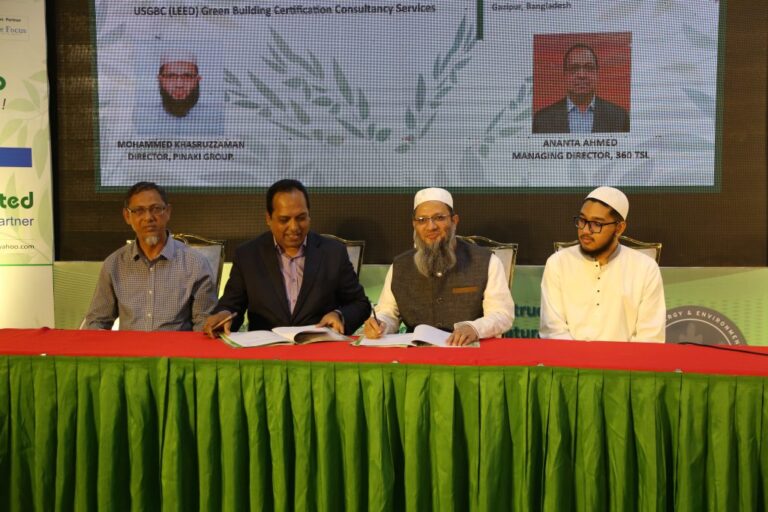 The two sister concern factories are:
 AG Dress Ltd(EB O+M),Fin Bangla Apparels Ltd (EB O+M).
A.G Dresses Ltd. is the strength of Pinaki Group for Woven Tops manufacturing in Bangladesh. Pinaki Group began its arduous journey in 1984 with a mission to be a leading exporter of high-quality garments in the country.
Fin-Bangla Apparels Ltd, was established in 2016, which is another wing of Pinaki Group and is established with a vision to further our development of our business in the Global apparels market.
Mohammed Khasru Zaman Director of Pinaki Group 
said, We're extremely thankful to experienced face-to-face consultancy and regular guidance from Team 360 TSL and Mr. Ananta Ahmed as Bangladeshi consulting company. We are  not focused on certification only , we are committed to environmental sustainability for our 5000 employees, added Mr.Khasru.
Now our country has the highest number of green factories so this initiative helps to increase our value and branding in the world, he added.
Bangladeshi Green Building Expert, Ananta Ahmed, Managing Director of 360 TSL,(LEED AP BD + C, LEED AP EB O + M & LEED AP ID, LEED AP HOMES, LEED AP ND) USGBC faculty
 said, it's a great  history in the country a big group of companies its four factories decided to go Green for sustainable business. 
We 
hope that this two factories  will achieve good score through  360 TSL Green Building Consultancy Services said , Ananta Ahmed, Managing Director of 360 TSL.
360° TSL is a pioneer and leader in Green Building Consultancy Services in Bangladesh and now consulting/consulted on 281+ Projects with 91+ companies and 43 million Square feet.